Fifty years ago Australia experienced its second-worst construction disaster. Here are my memories: my humble contribution to this story of national psyche.
The West Gate Bridge is a vital piece of infrastructure which connects Melbourne's Central Business District to the Western suburbs. Prior to the bridge's completion this route was slow and haphazard, due to the geography of Melbourne having water to traverse.
It seems like I've always known the story of the West Gate Bridge's collapse on during its construction: it's always been part of my understanding of the world, despite my being too young on 15 October 1970 to actually remember it.
The fiftieth anniversary of the collapse, with its accompanying interviews of survivors and media releases of the time played on the radio, brought these memories of mine to mind:
MY MEMORY:
The bridge was finished eight years after its collapse; the first cars went over it on 15 November 1978. I was in Grade Six, my last year of primary school. Our fantastic teacher, Mr Tyrell, took us on a school excursion to walk the bridge before it was opened up to traffic. Truthfully! It's unfathomable, in contemporary times of government red-tape and legally-constrained risk management, that such a school excursion would be permitted … yet there we were, thirty ten-year-olds, walking around freely, 58 metres (190 feet) high in the sky, enjoying the view of the docks way down below, the cars like ants snaking through the streets … 'protected from falling' by a hip-height guard rail …
I remember taking it all in and saying to my friend, "You know how seagulls fly really high?" I waited till she nodded her affirmation, then continued, "Well, look at them way down there!" Her gasp of realisation confirmed my own cognition: This. Bridge. Is. High.
My Grade Six teacher was inspiring. However, I'm sure we were not the only school class to walk the bridge in the three months between its completion and official opening: still, a school excursion with ten-year-olds!! That would never happen today!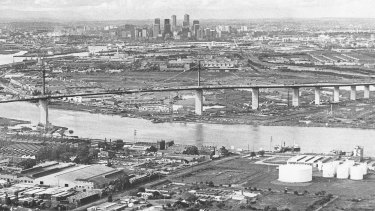 1978 was a different era: Melbourne was a provincial town with close-knit community and social interaction. Kids spent their days outside and were given responsibility to get themselves to and from places. My final observation is that my excursion – which we children took in our stride as something exciting and fun, yet not overly remarkable – occurred decades before the suicide-prevention fences went up.